University Hills is a single family development built by the Ray Hommes Company in the 1960s in the University City neighborhood of San Diego. It's one of several single and multifamily developments on the mesa bordered by Rose Canyon in the North, Interstate 5 in the West, State Highway 52 in San Clemente Canyon on the South, and Interstate 805 in the East. This area is referred to as South UC by local residents.

University City was a planned development designed by architect William Krisel for developer Irvin Kahn in 1960. The master plan uses a hierarchical road network designed around the hilly topography to enhance privacy and reduce congestion by limiting thru-traffic access. Cul-de-sacs are linked to connector roads with one or two accesses to the three major arterials Genesee, Governor and Regents and few links to neighboring developments. Individual single family developments are not gated or identified by signage. Different house models or shared fencing along their perimeters are the remaining traces of their common origin.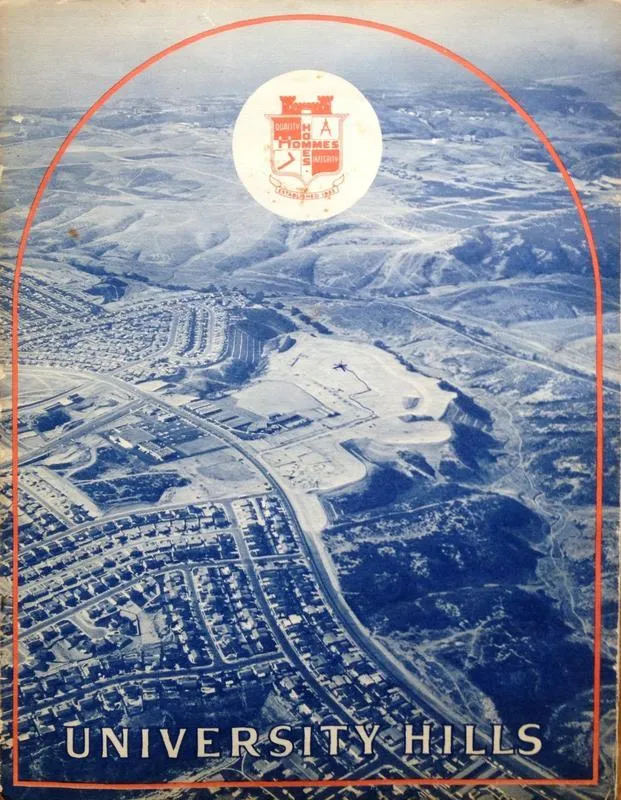 The five road-sheds comprising University Hills have some correspondence to different development phases. Aerial photographs on the cover of an original 1960's marketing brochure and other sources show areas west of Genesee bordering Governor developed by 1964, east of Genesee developed by 1966, and the Lahite Ct and the plateau north east of it was completed by 1980.

Scripps-Stadium
Carnegie Ct
Carnegie Pl
Carnegie St
Eton Av
Eton Ct
Ithaca Pl
Ithaca St
Occidental St
Scripps St
Scripps Wy
Stadium Pl
Stadium St
Syracuse Av
Tulane Ct
Tulane St
Stetson-Mercer-Radcliffe
Cascade Ct
Cascade St
Condon Dr
Dennison Pl
Dennison St
Fisk Ave
Galloway Dr
Luigi Ter
Marvell St
Mercer Ct
Mercer Ln
Mercer St
Millikin Av
Millikin Av
Ohma Ct
Radcliffe Ct
Radcliffe Dr
Stetson Av
Tony Dr
Wellesly Av
Wellesly Ct
Wellesly Pl
Wellmer Pl
Willard St
Edmonton-Calgary
Calgary Ave
Calgary Ct
Calgary Dr
Combe Way
Edmonton Ave
Stettler Way
Benhurst-Coezens
Benhurst Ave
Benhurst Ct
Camrose Ave
Erlanger St
Farley Ct
Farley Dr
Farley Ln

Ray Lloyd Hommes (Nov 7 1900 - Aug 3, 1983) was a prolific developer of homes and military bases in California and the Western States who is all but forgotten compared to contemporaries like Joseph Eichler.
‍
These tract houses were designed to appeal to a broader demographic than Eichler's with transitional touches like English cross timbering and Mansard Roofs or rustic features like wood siding, and cedar shakes and shingles on the roofs. As such they don't stand out as dramatically as the Eichler's from traditional styled houses from before or after the 1945-73.

Hommes is mentioned as a frequent client of architect Edward Hale Fickett in several articles about post-war tract housing:
Documentation also survives on their collaboration on the Sherman Park and Meadowlark Park housing developments in Reseda.

There is very little information online about architect Leonard Brunswick who is credited as the designer of the University Hills houses.  Listings for two of his former residences in Silver Lake offer a few clues about personal preferences that may have influenced some his house designs for University Hills: